Founded in 2006, e2e is a leading logistics company in Pakistan. In 2012 e2e achieved the title of becoming the fastest growing company in Pakistan by Harvard based AllWorld Network with a revenue growth of 1,918% during 2008 – 2010 period and in just 7 years it has flourished as a group and earned the respect of businesses as the only "Supply Chain" conglomerate of Pakistan.
e2e SCM is in collaboration with one of the world's largest and leading logistics company. e2e is Geodis Wilson preferred agent in Pakistan and Afghanistan. As preferred agent, e2e clients are able to fulfill their global reach and gain access to world class transportation solutions making their supply chain transparent and easy to manage. Through our strategic partnership we have been able to provide our customers in Pakistan with door to door and time sensitive deliveries, freight cost analysis, logistics management, and mission critical retail services.
About Geodis
Geodis Wilson is a leading global freight management company with 7700 employees and 240 offices spread over 50 countries. Geodis Group is owned by French rail and freight group SNCF (revenue of €33.8 billion – 2012, total workforce of 250,000 in 120 countries). The Group's ability to coordinate all or part of the logistics chain (air and sea freight forwarding, groupage, express, contract logistics, transport of part and full truck loads, reverse logistics, supply chain coordination and optimisation) enables it to support its customers in their strategic, geographical and technological developments, providing them with solutions tailored to optimising their material and information flows. Geodis offers a range of logistics services that meet the specific needs of each sector of the economy.
GW serves fashion and lifestyle, hi-tech, automotive, aviation, marine logistics, industrial, pharmaceutical/healthcare and luxury hotel/ resort logistics markets for customers globally.

Our International Network of Offices
Presence in Afghanistan
e2e currently has 4 offices in Afghanistan. Formed in 2009 with a 4 people staff and an office in Kabul; we have penetrated into the Afghan market and have grown immensely to become a dominating player in 2012. Our offices are located in: Kabul, Kandahar, Hairatan and Mazar-e-Sharif and are supported with Container terminals on all locations with total Storage capacity of 4000 TEUS and employing around 80 people.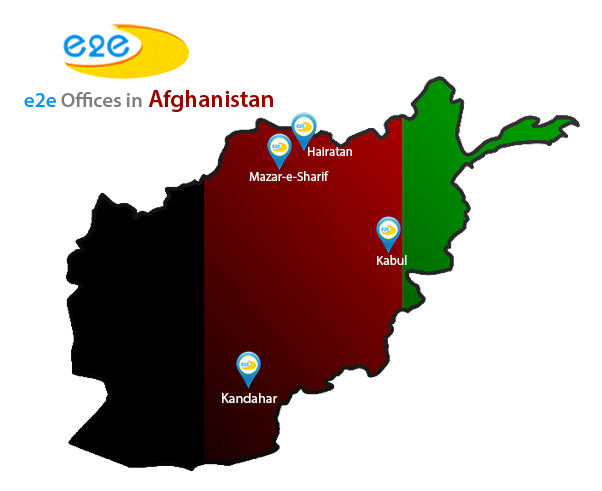 Presence in Bangladesh
In 2013 we established our 2nd base in Bangladesh (e2esgl) which is a subsidiary of e2e SCM. e2esgl has offices in Dhaka and Chittagong.
e2e SGL aims to provide its international and Bangladeshi customers with unmatched service and competitive prices. With e2e SCM already established in end-to-end logistics in Pakistan across all segments of the economy, e2e SGL looks to leverage off its parent's network and seeksits partners continued support in developing new vendors in this part of the world, particularly in value added textile accessories.